To subscribe to our email newsletters / blog notifications please complete the form opposite or click HERE
Beware Ransomware – Back-up, Back-up, Back-up!

Posted: August 2016
We are seeing a huge rise in the spread of Ransomware. A great deal has been written about this in the press and the online media streams. The one important factor that is coming out of all of this is that antivirus / online security packages alone are NOT SUFFICIENT PROTECTION!
Alongside online security you need to EDUCATE your staff, colleagues, family members and friends and ensure you BACKUP, BACKUP, BACKUP!
Whether you backup to a local USB device, Dropbox, One Drive (or other cloud storage platforms), NAS or Tape Media remember that the newer strains of Ransomware will infect connected/networked devices. So you may have a USB backup connected to your machine but if you get infected and the USB device is attached it may well infect your backup to! Always ensure you have REGULAR, SEPARATE backups and at least 1 backup not connected or offsite at any moment in time.
Although decryption methods and fixing tools are beginning to arise there are still no real fixes for the most recent Ransomware strains and restoring your systems and restoring backup data is the only real means to get back up and running.
Also, more providers are starting to offer 'full metal backup' solutions that allow the user to restore the entire system and data to a previous state – if you are a home user then these can be purchased for as little as £30 per month by mainstream providers such as AVG, LOGMEIN, ACRONIS, SYMANTEC etc… for corporate users and server systems there are 'belt and braces' solutions but expect to pay more in the region of £200 per month – money well spent if the alternative is business downtime or even closure!
Some useful articles below – if you would like any advice or would like to implement a solution then contact Alan on 07798 673446 or alan@rasdata.co.uk
https://www.microsoft.com/en-us/security/portal/mmpc/shared/ransomware.aspx
How to protect your data with AVG
What happened to Windows 9? Welcome to Windows 10
Posted: June 2015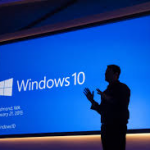 As we see the emergence and marketing for the replacement to Windows 8, namely Windows 10 – then the question is asked "what happened to Windows 9?"
It is often joked that you had Windows 7, Windows 8 but then Windows ATE 9!
Microsoft themselves have said that they wanted a fresh start and to not have the new operating system associated too much with the older one and hence it was decided to 'skip' to 10. So what does the new offering have that will bring back all those users that are still holding fast to Windows 7, and some even to Windows XP, even though the latter is no longer supported and certainly open to security breaches due to receiving no more updates.
It is well accepted that Windows 8 alienated a lot of windows users. With the loss of the START button and the 'touch screen' feel to the interface it almost seemed as if we had taken 3 steps backward and only 2 steps forward. The introduction of free downloads to give the 'feel' of Windows 7 back to the newer offering was certainly a sign that they had maybe got it wrong. Certainly, feedback from our users/clients was that people liked the START button and the ability to 'focus back' onto a point of reference where 'programs', 'control panel', 'devices & printers' etc. could be located. The Windows 8 process seemed longer and unnatural. Also, the right hand 'invisible' settings/tools menus that suddenly appeared if the mouse (or swish of the hand) moved over to that side often caught users off-guard. The alternate IE (Internet Explorer) interface with the address bar etc. at the bottom and the nasty habit of the whole operating system to associate itself with your email account or even appear to force you to open a Hotmail account (even though this was a mis-interpretation)…..all these and more contributed to many users not taking up the Windows 8 offering!
Windows 10 does appear to have answered some of those critics but not all issues have been addressed – mainly because, I believe, Microsoft do not see them as issues but rather a required 'learning curve'. There is no doubt that they would like their operating systems whether pc, laptop, tablet or phone to be inter-operable and hence certain features need to be in that 'learning curve' category as it is the only way to cross all of those devices.
So what are the improvements?
We can list the main ones as:
Windows 10 is FREE




Well, only to consumers – enterprise versions are only available to 'software assurance' users, but still a huge improvement and more akin to Apple's approach.

The START button returns

Touch is still supported although 'charms' will be going (hurrah)

Task 'switcher' has gone and 'Task View' and the ability to switch using the taskbar re-appears

The ability to cut and paste items into the CMD window simply

Windows Explorer gets a makeover but retains all the aspects of Windows7

Multiple desktop windows can be snapped easily into place

Single app store across devices (servers, pc, tablet, phone)

Corporate and personal data can be separated with Windows 10

The more familiar 'desktop' returns with the ability to float 'apps' if you wish
So, do I upgrade now?
In a word NO! As with all operating system releases I would suggest waiting for at least 6-8 months after release so all those pesky bugs and faults get sorted. In the meantime flow freely with your tried and trusted Windows 7 or persevere with your frustrating Windows 8.
If you want any advice then contact alan@rasdata.co.uk
The new LILY flying camera 
Posted: June 2015
LILY have released the world's first 'throw & shoot' camera! It really is like something from the world of science fiction. The new device fits neatly inside a daysack or holdall, you throw it in the air and it tracks your action for up to 20 minutes shooting HD video, stills and even slow-motion action. How does it do that I hear you ask? Well, it comes with a tracking device that you can wear on your wrist or place in a pocket and follows you as you ski, cycle, kayak, dive, walk, run or barbeque.
The tracker and device itself is fully waterproof and appears easy to use. See the video and follow the link below to be blown away ..
*********
A man from 'Microsoft' phoned and ….
Posted: February 2015
A WARNING TALE ABOUT THE NEW SCAMMING ROUTINE
Please be warned that households are being contacted (normally by phone) by people claiming to be from Microsoft and claiming that your machine has an issue or is indeed    infected by a malicious virus/trojan. This used to be a common scam and the ultimate outcome was a payment of £199 for £30 worth of legitimate software – so, unscrupulous but not criminal or lethal to your machine!
The new tactic is to gain remote access to your machine and install the software BUT they also place an 'encryption lock' on the bios of your device. unless you pay the money they do not give you the password and you are completely locked out of your machine – in some cases not even able to re-install or do factory reset….. please be cautious and never allow anyone that you do not know access to your machine.
The simple rule is that MICROSOFT WILL NEVER RING YOU UNLESS YOU HAVE BOOKED A CALL FROM THEM!
Call or email now if you are worried!